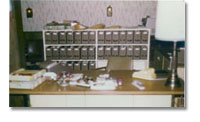 Comprehensive Accounting Services was started on St. Patrick 's Day, 1975, by Richard P. French, in Livonia, Michigan.  Mr. French hired his first employee Marilyn Freeman soon after and has been growing and improving ever since.
As a franchised office in the Comprehensive organization, Mr. French was able to provide his clients with computer printed financial statements, long before there was a computer on every desktop.

Comprehensive has continued to grow and have the ability to provide its clients with additional services that separate us from other accounting offices.  We are now located in Farmington Hills, with a bookkeeping and tax staff of over ten employees to help meet our clients needs.  And Mr. French is proud to note that Marilyn (Freeman) still helps out in the bookkeeping department.
Comprehensive's innovation has continued.  We provide our clients with our own CheckWriter program, which allows our clients to do all their check writing and payroll on their own computer.  At the end of the month this information is transmitted to us via our secure website for review and processing.  We are also capable of importing Quickbooks information directly into our system.